Let Our Chevy Service Team Prepare Your Car for Spring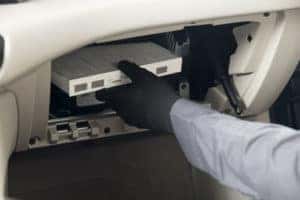 It's always refreshing to jump into a new season. So with the arrival of spring, you can improve your driving experience by making your way to our Chevy service center. Our team here at Kearny Mesa Chevrolet can make sure your car is ready for the changing weather. Here's how our team of certified Chevy technicians can prep your car for spring.
Car Battery Check
During the milder temperatures in the winter, colder temperatures can make it more difficult for your battery to hold a charge. However, the temperature fluctuations ahead could spell trouble for your car battery too.
By having your battery inspected for corrosive buildup, fluid leaks, and other issues, you can improve your chances of your car battery making it through the spring and summer without any issues.
Air Conditioning Check
While you may not have needed your air conditioning for the past few months, you'll be very thankful for a functioning air conditioning system soon. Have our team check out your air conditioning system to make sure it's ready to keep you cool in the months ahead.
Oil Change
If you're approaching your next interval for an oil change, it's a good idea to swing by at the start of spring so you can keep track of when to change your oil in the future. Plus, it's always smart to keep your car's supply of oil fresh!
Tire Rotation
Another great way to ensure your car is ready to handle the season is to get a tire rotation. By having our San Diego Chevy service team rotate your tires, you can enjoy better grip when the spring rains hit.
Schedule your service appointment with us today!