Shopping for Kearny Mesa Tires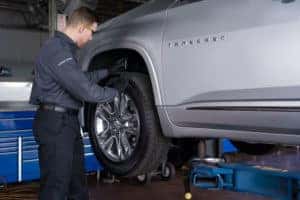 Your driving experience will already improve when you choose a new Chevy car. But you can elevate your time on the road even more by finding the right Kearny Mesa tires. To enjoy excellent service and a fantastic selection, be sure to head over to Kearny Mesa Chevrolet when you need new tires.  
Best Chevy Tires for Kearny Mesa Drivers
Your car will come equipped with quality tires when you drive it off of the lot, but you can make your driving experience even more enjoyable by finding new tires. Either way, it helps to have a good tire center when it comes time to replace your tires.  
If you drive a sports car, such as the Chevy Camaro, then you should shop for performance tires. This type of tire is made with softer rubber for superior grip while accelerating and cornering.  
If you have a dynamic off-roading SUV, such as the Chevy Blazer, then you can add rugged all-terrain tires, which feature deeper tread for traction on rocky or muddy surfaces.  
Our Tire Center
Our San Diego Chevy tire center is your stop for all of your tire needs. During your routine maintenance appointments, our technicians will make sure your tires are in good condition before you leave.  
You should also get your tires rotated at our service center to maintain an optimal grip on the road and to make sure they're wearing evenly.  
When you need new tires, our team will be happy to help you find the perfect Chevy tires for your car, whether you simply need a replacement for a worn-out tire or if you are wanting to enhance every aspect of your car's performance.  
Schedule your service appointment with us today!