The Chevy Blazer Safety Features for Sale at Kearny Mesa Chevrolet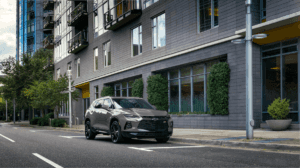 Drivers looking for their next adventure who also want safety on the go should check out a new Chevy Blazer for sale. To get a close look at this sleek crossover SUV and all of the exciting features it has to offer, make your way over Kearny Mesa Chevrolet. We'll be happy to go over the advanced features designed to keep you and your family safe on every trip.
Forward-Collision Alert
This available smart safety feature uses radar technology to detect how quickly you're approaching traffic in front of you. If the system detects that you're not slowing down quickly enough, you'll get a series of auditory alerts.
Automatic Emergency Braking
The same radar system can also sense if you don't brake in time. By automatically braking before you have time to react, this intelligent system can help mitigate or avoid collisions.
Lane-Keep Assist with Lane-Departure Warning
This available advanced driver-assist system uses cameras to detect the lines on the road. If the system detects that you're not staying within your lane, you'll get an alert. This system can also provide gentle steering to help keep you on course and to prevent you from veering out of your lane.
Adaptive Cruise Control
Radar technology allows this available system to detect the speed of the vehicles ahead of you. You can set a safe distance between you and traffic ahead of you and your Chevy Blazer will automatically maintain that distance as traffic changes speeds.
Buying a Chevy Blazer
Talk to our San Diego Chevy dealers about taking a new Chevy Blazer for a test drive when you visit our dealership. We'll be happy to help demonstrate its available safety features and get you behind the wheel. Visit us today!