What to Look For in a Used Lifted Truck for Sale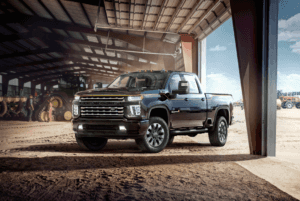 Sometimes, you don't want to settle for any driving experience that leaves you feeling like anything less than the king or queen of the road. And to get a rugged vehicle for both on and off-road dominance, you need to look for a used lifted truck for sale here at Kearny Mesa Chevrolet.
Visit our dealership today to explore our selection of pickup trucks and to find your ultimate road warrior.
What to Look for in a Used Lifted Truck
When inspecting your options for a used lifted truck, you'll want to keep an eye out for several factors to ensure your truck will be up to the task.
One thing you'll want to look at is the tires. The previous owner may have only lifted the truck for looks, but if you want to take your truck off-roading, you'll want to swap out the tires for serious all-terrain tires.
You should also ask for the history of the brakes of your truck. A lifted truck will benefit from larger calipers and rotors to accommodate the extra weight, so see if the brakes have been upgraded accordingly.
It's also a good idea to see if the driveshaft and leaf and coil springs have been properly too, so you enjoy as smooth of a ride as possible.
Benefits of Buying a Used Lifted Truck from Our Dealership
Our certified Chevy technicians expertly recondition every used car listing to ensure it's ready to deliver an incredible driving experience.
When you purchase a used lifted truck from our San Diego Chevy dealership, you can be confident that you'll enjoy a unique driving sensation for the road along with enhanced off-road fun. Visit us today to explore our selection of used lifted trucks.